'Templar Grand Marshall Sword', 13thC.
Late 13th century sword 'Grand Marshall', based on museum examples.
The sword has a classic look and most common type of the blade, pommel and guard in 13th / 14th century.
Knights Templar (Christi Pauperum Militum Ordo)
The Poor Fellow-Soldiers of Christ and of the Temple of Solomon (Latin: Pauperes commilitones Christi Templique Salomonici), commonly known as the Knights Templar, the Order of Solomon's Temple (French: Ordre du Temple or Templiers) or simply as Templars, were among the wealthiest and most powerful of the Western Christian military orders. They were prominent in Christian finance. The organization existed for nearly two centuries during the Middle Ages.
Officially endorsed by the Roman Catholic Church around 1129, the order became a favoured charity throughout Christendom and grew rapidly in membership and power. Templar knights, in their distinctive white mantles with a red cross, were among the most skilled fighting units of the Crusades. Non-combatant members of the order managed a large economic infrastructure throughout Christendom, developing innovative financial techniques that were an early form of banking,and building fortifications across Europe and the Holy Land.
The Templars were closely tied to the Crusades; when the Holy Land was lost, support for the order faded. Rumours about the Templars' secret initiation ceremony created distrust, and King Philip IV of France – deeply in debt to the order – took advantage of the situation to gain control over them. In 1307 he had many of the order's members in France arrested, tortured into giving false confessions, and burned at the stake. Pope Clement V disbanded the order in 1312 under pressure from King Philip. (source: Wikipedia)
Inscriptions
Engravings on the pommel are inspired by Templar Order seal (Sigillum Militum Cristi + de Templo)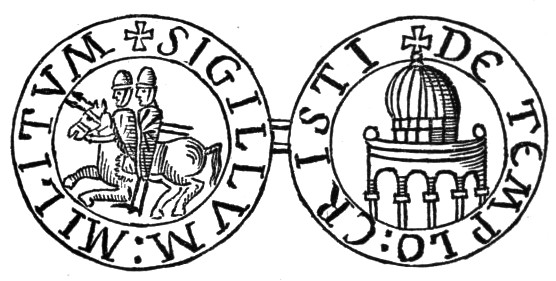 I had changed inscription to: 'MILITUM TEMPLI' and 'MILITUM XPISTI', because it is not the seal but sword pommel.
On the fuller is engraved Templar knights motto:
'Non nobis Domine, non nobis, sed nomini Tuo da gloriam' with Cross Potent marks.
Characteristics:
The sword is very comfortable in use, because of the tight grip and its shape. Weight, balance and length, makes it powerfull weapon, but still easy to handle with one hand. Blade of this sword is designed for strong cutting, but it is also stiff enough to provide effective trusting.
Measurements:
overall length 955mm
blade length 810mm
grip length 90mm
blade width 53mm
thickness: at the base 4,5mm
crossguard 185mm
pommel 53x50x32mm
balance ca. 120mm
weight ca. 1260g