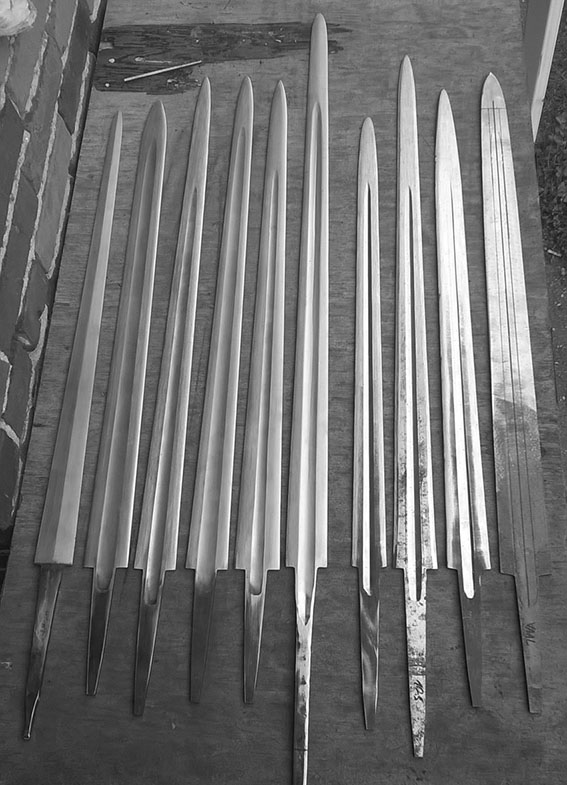 How to order / purchase a medieval sword?
I make swords on commissions too. First you need to contact me and specify what sword / falchion / ax you need. Important will be to point out:
period - century or years
type - using swords typologies or historical examples
purpose - collection item, museum replica, fencing, reenactment, etc
expected features - sharpness, aging, decorations, etc
scabbard & belt - optionally
Commission process
When we know the type and period, you can specify particular originalm example to be recreated or some few as the base for the design.
I always make design in scale 1:1 and working with this to the final effect. When work is finished - I`m sending high quality photos and measurements. When I have the customer agreement - then I prepare the shipping.
Technology
Every sword, scabbard or axe is hand-made object with unique form, just like medieval pieces. I use both: old and modern technology, but always most important is the final effect: medieval character, appearance and features.
Mostly I use high-carbon, chrom-vanadium steel for blades, forging and grinding, without computer-controlled machines.
Hardening process can be controlled for best results, close to medieval blades hardness.
As all hand crafted things swords and scabbards can have visible traces of manual work after forging, grinding, coloring, etc.
Waiting time
The waiting time depends on curent queue. Usually it is from 4 to 12 months. The waiting time depends on the current number of orders. I am asking for individual inquiries.
Payment
I prefer PayPal for the payment. I will ask for some advance on start, simply to confirm the commission. It may be from 20 to 50% of full amount.
Available pieces
There is a section Available where I place some finished works. They are for sale. You can ask me about customizing them, adding some decorations, etc. They are finished my way, mostly unsharpened or close to sharp, because of the safety of finishing work but also because some of you don`t want it very sharp (for fencing for example). You need to contact me and discuss - there are very different expectations and these pieces are not commissioned ones. As all hand crafted things swords and scabbards can have visible traces of manual work after forging, grinding, coloring, etc. Purchasing one of available swords means acceptance of the finish form shown in the pictures and description. All works are hand made according to available research and historical sources and can reflects some imperfections found on historical examples.
Shipping
I use Official Post Office for international shipping, the air-post. Cost of the shipping is mostly ca. 50 € for European countries and ca. $60 for others.
I`m using a sturdy boxes, cutted to the particular object and 4 protection layers inside or solid ABS cases. The object is always secured and safe.
After the shipping is started I will send to the customer a tracking code with a link. Shipping time should be 2-4 weeks, depends on the country, distance and shipping method.
Some special swords can be shipped with a case, for safety and comfort of using. Ask me for this option before shipping.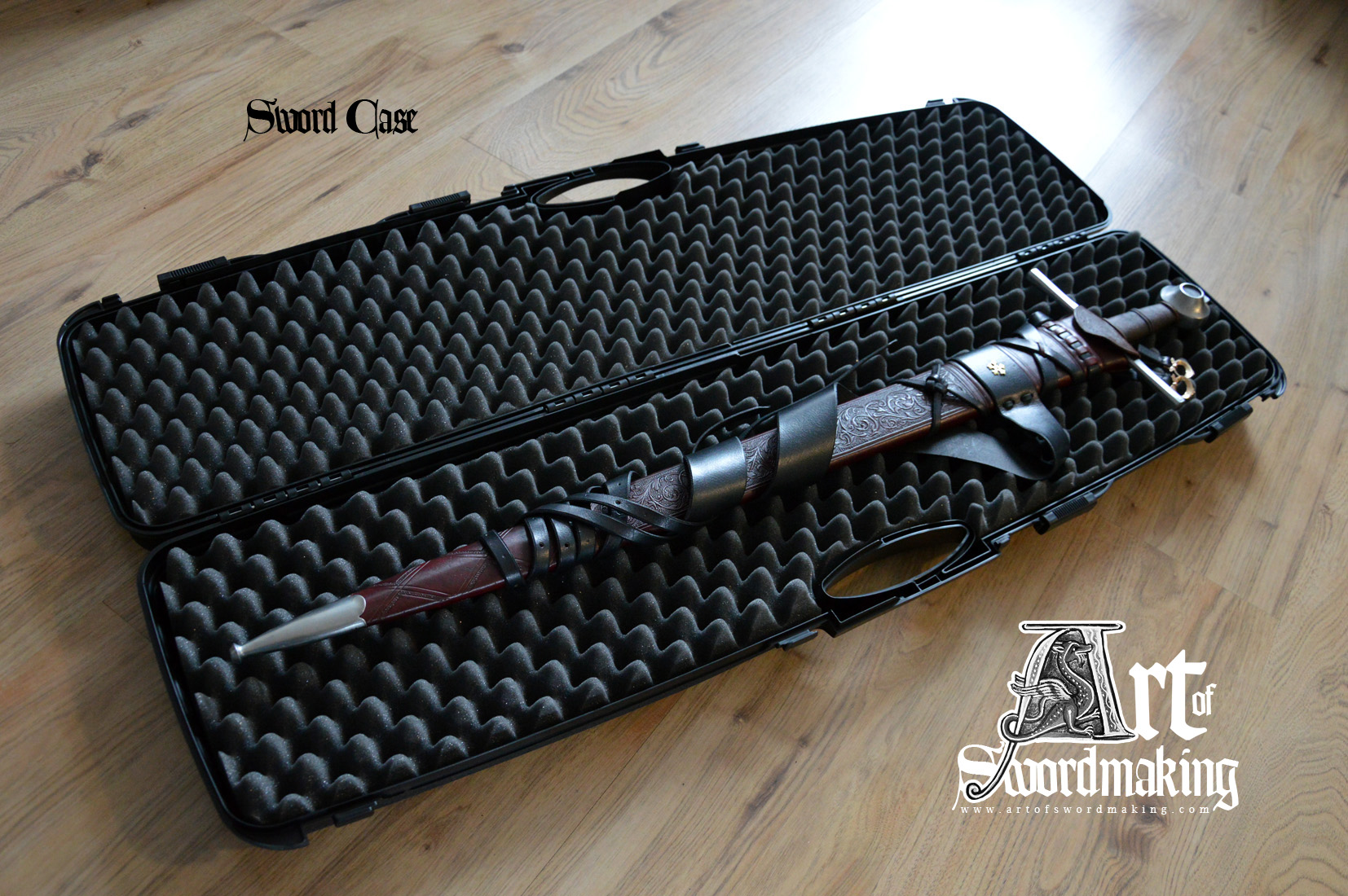 Use and recommendations
Swords are dangerous and were once a deadly weapon. Currently, we treat them as collectors' items for historical reconstruction and training purposes.
The products are fully functional and suitable for their intended use:
Nowadays, it is recommended to use for training, for collecting purposes, exhibition and understanding of medieval weapons. It is not recommended to use inconsistent with the intended use, e.g. throwing, hitting stabilized objects, chopping (wood, etc.).
Gloves are not recommended for use, especially in modern nonhistorical versions.
Special gloves can be used, according to medieval sources.

The blades are sharp but are not intended for sparring due to the risk of injury. It is recommended to use special safety measures, protective clothing or armor. For cutting tests, the blades can be additionally sharpened.
Swords and their elements wear out over time, just like any other item that we use, for example for training purposes. It is recommended to take care of metal, wooden and leather parts with the use of specialized maintenance agents. This will greatly increase the longevity of the swords used. Swords or their scabbards are recommended to be used, worn and handled as intended and properly cared for.
Use inconsistent with the correct grip, handling or for purposes other than those listed here, may result in destruction or damage for which the maker is not responsible. The wrong angle of cut or thrust can damage the blade or structure. I am asking for caution and making skilful and conscious movements during training: for your own safety. Items are made with the greatest care and are very resistant, hard to damage or destroy. However, incorrect use can cause serious damage. The owner is responsible for such damage.
I am asking for reasonable and respectful treatment of the items.
Please check the items carefully upon receipt of the package.
Price list
There is very difficult to make a 'price list' if we are talking about such unique hand-made objects, like medieval swords or axes.
I prefer to calculate particular commission by all informations I can gather before work, with all historical aspects and customer expectations. The price depends on many things, like: type, parameters, aging, inscriptions, decorations, scabbard and belt, etc.
You can contact me and describe what you wish to have and I will answer with price.
Care & Maintenance
Download