German Longsword, late 14thC.
Late 14th century German Longsword.
Dating
This particular sword design was based on some few existing examples. First one, depicted in the book of E. Oakeshott and described as possibly sword of the emperor Albrecht II (1438/9). We can see the Passau wolf on the fuller. The sword is lost now and we have only one photography and the blade length 888mm. I took this proportions and a blade type as a base for my sword. Second base sword is from Polish museum, but probably also a German provenience, because of the Passau mark on the blade. It is dated to second half of 14th century. This second sword has similar blade type and proportions, but the crossguard and pommel are earlier. That why I have decided about dating my sword to the end of 14th century.
Characteristics
This sword is not light, but very well balanced. Actually its parameters are close to many of 14th century swords of that kind - about the weight and length. We know some examples weight around 1600-1800g and more. The length between 1050 and 1130mm was very popular at that time in whole Europe. The blade is well defined with every shape and angle - it also has thickness, which make it stiff and very good for trusting techniques as well as for strong cutting performance. The handle is definitely designed for two hands - and it needs both, if we want to be faster with this sword. The stiffness of the blade makes this sword very effective with all longsword techniques as we can expect on the battlefield against heavy armoured enemies. It is also not too long, which makes it more universal weapon for its time.
Measurements:
overall length 1110mm
blade length 880mm
grip length 160mm
blade width 52mm
thickness: at the base 6mm
crossguard 205mm
pommel 52x48x41mm
balance ca. 110mm
weight ca. 1600g
Scabbard
The composition on the leather was inspired by late 14th century sword scabbard, now stored in from Museum of London.
The main problem was to make it medieval way, means not too precise, askew and slightly asymmetrically, to be closer to medieval character and style - not easy challange. It is not possible to recreate all the nuances of careless free-hand moves of medieval artist... but it is possible to learn to see it with his eyes - more or less. (...)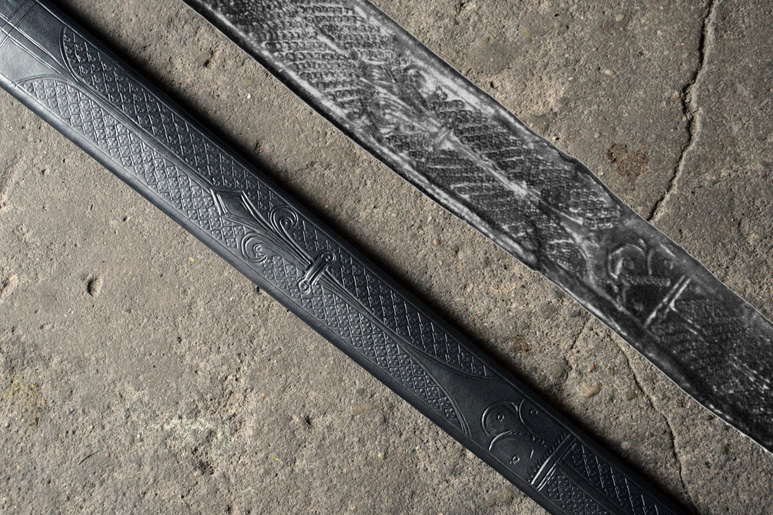 Belting
This sword has very simple and functional, offset belting. It is firmly and tight hand-stitched with adjustable lower belt level. This style of belting we can find in manuscripts and we can interpretate about technical details. This belting method is actually one of the most functional: it keeps the sword firmly and rigidly on its place, it is adjustable and you can have it more vertical or at angle, thick and large buckle gives safe fastening. This belting allows you easly take it off the scabbard and store separated. It can be also reassambled very easy for left-handed man.